Certified Quality
Auriga has obtained the most important certifications in the field of EN ISO, in addition to those required by large companies in banking services, guaranteeing the highest performance of quality and security to their clients.
We are certified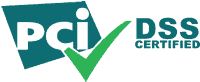 The Payment Application Data Security Standard (PA-DSS) is recognised worldwide and consists of a series of security standards. These must be adhered to by developers of payment and withdrawal applications when concerning procedures and systems, which store, process and transmit card data during payments and withdrawals.
The adoption by banks and payment processors of applications certified by the PA-DSS allows them to reduce the risk of card data theft, but also, helps them in the process of PCI DSS certification, and makes it easier to obtain the aforementioned certificate from the PCI Security Standards Council.
In other words, PA-DSS certification guarantees that the application ensures the security of card holders' data, without storing or memorising them (e.g. PAN, records, PIN code).
Auriga has achieved the important certification PA-DSS given by the PCI Security Council both for its client and server component of its proprietary architecture software, as reported on the web site of the international institution.
GO TO WEB SITE
---

Consorzio BANCOMAT, created to support the enhancement of the payment cards market in Italy, is the parent corporation of BANCOMAT and PagoBANCOMAT networks.
The Consorzio BANCOMAT certification consists in the evaluation of compliance of products or processes using microchip technology to Consorzio Bancomat regulations and specifications and it is given when the concerning check phases are overcome. WWS Client (the Smart Client application on the ATM) has obtained certification from Consorzio BANCOMAT on ATM and self service devices manufactured by Diebold, KEBA, Nautilus Hyosung, NCR, Sigma and Wincor Nixdorf.
GO TO WEB SITE
---

The latest EMVCo Level 2 Certification of our kernel was obtained in August 2012, so our EMVCo Kernel is conforming with the 4.3a EMV Specification.
Additionally Auriga is a Company Subscriber of the EMVCo organization, to assure our customers the compliance of products to this standard and promote all actions needed to answer the customers' needs.
GO TO WEB SITE
---

ADVT-VISA
---

ETEC-Mastercard
---

Auriga partners with the initiative MyBank run by EBA CLEARING , the pan-European payment infrastructure solutions provider owned by 64 of the major banks operating in Europe, and has been certified as routing service and validation service provider.
GO TO WEB SITE
---
Auriga is the only non bank player certified as Technical Delegated Structure (STD) and as Point of Access Manager (GPA) of the CBI network.
GO TO WEB SITE
---
EN ISO 9001:2008
---
EN ISO 14001:2004
---

OHSAS 18001:2007